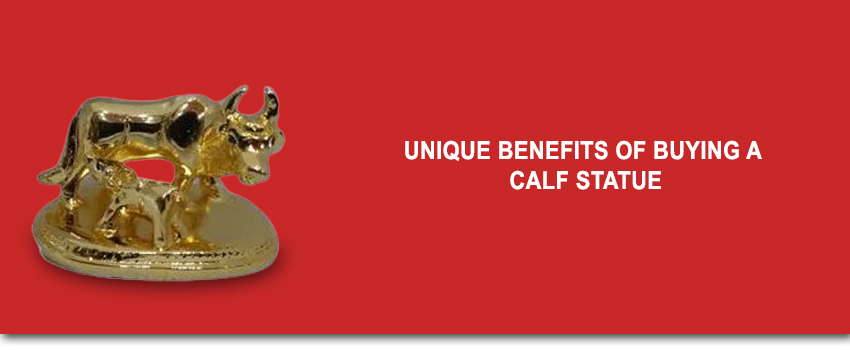 Cows and calf statues are considered sacred in Hinduism. Cow and calf statues are trusted to remove all the ills, bad vibes, and omens from the house or your office. Therefore, positioning the cow and calf statue at your home will boost health, wealth, peace, and positivity in your life.
Moreover, cow and calf statues are helpful for those households where partners face difficulties in having children. According to Vastu Shastra's principles, positioning the Kamadhenu cow's san idol, especially the one with its calf, will help offer prosperity, peace, and good luck in your household.
Benefits of Placing Calf Statue in your House
The significant benefits of placing a gold plated calf statue in your house are as follows-
• A calf statue in your house can cure all illnesses and evil eyes because the calf statue is an amalgamation of the goddess Lakshmi. It eases all aspects of mental, emotional, monetary, and physical health.
• Calf statues can improve health, wealth, and well-being. Calf statue will help you bring positive influence in your home and office. Calf statue will bring health, wealth, prosperity, peace, positivity, and success.
• According to the principles of Vast the North East zone of your house is the appropriate place for a calf and cow statue.
• If you place a calf statue at the entrance of the main door of your house, it is considered auspicious and maintains prosperity in your home. This is because the cow and calf statue is a sign of wealth.
Essential Tips for Placing a Calf Statue
One should consider a few tips for placing a calf statue in your house-
1. It will help if you put the calf statue in your home after you believe in the calf statue for Vastu.
2. If you keep the cow and calf statue in the wrong direction, it will negatively impact your life and workplace.
3. The cow and calf statue can be positioned in the office for success, prosperity, and growth to improve your lifestyle.
4. One must worship a cow and a calf statue because it benefits infertile females who want to conceive.
5. If calf and cow statues are made of metal material, it brings success and growth in life.
6. If you want to eliminate dullness from your life, you should place a calf statue in a puja room.
Gold Calf Statue
A beautiful cow with a calf brass statue depicts a mother and child's love. Hindu society identifies the cow as a caretaker and a maternal figure, and Hindu society honors the cow as a symbol of unselfish giving. Cows have always played a pivotal role in Vedic agrarian society. The cow is revered as the most sacred animal to Hindus. You can buy a gold cow statue for your ultimate benefits.
You can buy gold-plated calf statues from any authentic online portal to bring positivity and wealth. However, always check the authenticity of the gold-plated statue before buying it. The price of the original gold-plated statue is more than a fake gold-plated statue.